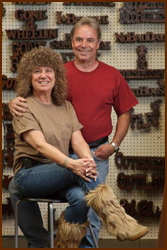 Welcome to Rustic Ironwerks.
Ronni and Bill have been designing and manufacturing quality metal products for stores, hotels and restaurants around the world since 1994. Our company has gone through many changes to meet the ongoing needs of our customers. We offer rustic home decor and gift items ranging from western and lodge to southwestern and more.
Our product categories include: Printed Signs, Welcome Signs, Cutout Signs, Wall Art, Magnets, Ornaments, Rope Art, Fan Pulls, Key Hooks, Desk Clocks, Candle Holders, Yard Art, Tissue Box Covers, Switchplate Covers, Outlet Covers, Night Lights, Steak Brands, Picture Frames, Napkin Holders, Salt & Pepper Holders, Recipe Card Holders, and more.
We pride ourselves in the quality of our products, as well as, personalized customer service. Our new manufacturing facility is located in Chino Valley, AZ. We offer 100% product satisfaction.